Group Style Consultations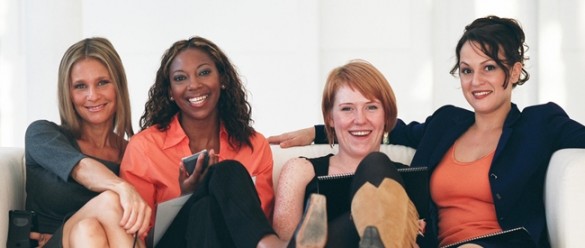 Everything is more fun with friends.
and it doesn't get much better than a girly day discovering all about clothes and fashion!  
Even better, a group style consultation costs less than a personal consultation and is heaps more fun.
Group style consultations are perfect for 2 to 6 people. To estimate the time of the session, add an additional 15 minutes to the base consultation time of 90 minutes for the second to sixth person
Group Consultations are Perfect for:
Mothers and daughters
Sisters
Friends
Social groups
Corporate groups
Brides and bridesmaids
Consultation Procedure
It is common for a group style consultation to follow a group color consultation; and when this is the case, the consultant will measure and assess each person at the end of the color session (allow an extra 10 minutes per person).  By doing this, the consultant can have the programs ready the day you return for the style session.
If the above has not happened, the procedure is as follows:
First, the consultant will take the group through how the session will work, basic body shapes and how the style discoveries everyone is about to make will have a positive and significant impact on the way everyone will look, feel, dress and shop.
Then, each person will be carefully measured and assessed by the consultant. Please note: No undressing is necessary, but we do ask you to come with a T-shirt underneath if you are wearing a bulky top.
At this time, a break in the session will be required in order for the consultant to produce a program for each person.  This will take approximately 15 minutes per person.  We usually suggest the group go out to a local cafe for a meal or coffee.
On your return, each person will receive a style guide, personal printout and a letter containing instructions on how to log into their personal program.  Each person will receive their own username and password.  The session will continue as the consultant takes the group through their personal programs and explains how to get the most benefits and uses from the information.
Each Person will receive:
a full color, 96-page style guide

a matching folder containing their personal recommendations

their program online via a private login.  This website will update the images in their program regularly and provide links to lots of online clothing and accessory retailers
At the end of your session, we know you'll all go home on cloud nine excited with everything you have learned and eager to return as soon as possible for a group color consultation.
Over the course of the session your consultant will cover everything from selecting the garments and accessories that most enhance your unique physical characteristics, your personal style preferences and expression and how to make the most of your appearance through skillful styling and coordination strategies.
During the Session Everyone Will Discover:
Their Vertical Body Type
Their Horizontal Body Type
Their best styles of Collars, Necklines, Sleeves, Cuffs, Pockets, Skirts, Dresses, Jackets, Vests, Pants, Shorts, Coats, Swimwear and Lingerie
Their best Lengths for Jackets, Tops, Skirts and Dresses
Which Accessories work best, how and where to wear them
How to assess if a Hairstyle will suit their Face Shape
The Line and Design influences that work best for them
What Silhouettes, Focal Points, Patterns and Prints are their best
Which Fabric Characteristics suit them best; e.g., bulk, texture, weave and surface
The Price per person varies depending on how many are attending and the location (your home or the consultant's studio)